I met
this girl
when I was 10 years old. And what I loved most is she had so much soul.
Well...actually...it wasn't so much the soul as it was the cursing and the nudity. I think I appreciated her essence at first sight. But when you're meandering through adolescence, "shit" and nipples own your attention in a way that the ethereal just can't compete with.
This girl hooked me oh-so-innocently with
Fraggle Rock
. When rainy summer days confined me and Youngblood to the basement of our folks' house, I quickly graduated to
Not Necessarily the News
,
Computer Games
and endless reruns of every Arnold Schwarzenegger and Steven Segal movie made between 1983 and 1989.
She really started to hook me with a
One Night Stand
and wouldn't let me go when she aired
Inside the NFL
,
Tales from the Crypt
,
Dream On
,
Def Comedy Jam
and most of Mike Tyson's greatest hits.
A few episodes into both
Real Sex
and
The Larry Sanders Show
, someone in my house decided to cancel HBO. Maybe there was a link there. Maybe not. I certainly would have appreciated one and been confused by the other. Which would have been which, though, is anyone's guess.
Whatever the case, HBO long ago claimed its place as my "main chick." Even when her signal came up scrambled on my TV, I always knew she was the one.
We stayed apart for most of the second half of my high school career, reconnected sometime during my undergrad and we've been together ever since. 'Cept for a couple of times when we tried to quit each other. The quit never seemed to stick, though.
We had
Oz
when I lived in Pittsburgh.
The Sopranos
, too. Matter of fact, we had many words over
The Sopranos
'cause I didn't like that the show made her everyone's chick. Long as she kept giving it to me, though, I was hard pressed to leave her. We drifted a bit after I moved to LA, but she won me back with
The Wire
and
Six Feet Under
. When those shows were on hiatus, she kept feeding me
America Undercovers
to keep the sheets warm.
Our relationship cooled slightly with
Carnivale
and
Deadwood
.
Enjoyed
a quick boost with
Def Poetry Jam
. She accented that with a plethora of hookers, strippers and
Real Sex
. She missed me with
Sex and the City
, but I wasn't mad that she had something that was just for her and her girls.
She nearly lost me with
Curb Your Enthusiasm
. I thought it was well structured and executed, but I just can't watch Larry David for more than 3 minutes. No matter how much I dig shows about messed up people living in California. She did, however, make it up to me with
Entourage
and we found our relationship in a really good rhythm as
The Sopranos
handed off to
Six Feet Under
which yielded to
The Wire
. That, of course, would bring us back to
The Sopranos
to start the cycle again.
Then I left LA. Lost her for a little while. Got her back. But the chemistry was off. She broke
The Sopranos
into two half seasons.
Entourage
made me feel homesick for a life that didn't exist anymore.
Six Feet Under
finally crafted
its own epitaph
.
Rome
didn't work for me. Neither did
Epitafios
. 'Round that time, I discovered
The L Word
. Which was cool for a couple of episodes, but didn't command my attention. I watched the debut of
Weeds
and, for the first time in my life, started coveting my girl's neighbor. Then I moved out of the apartment with the subscription to Showtime and my girl really showed me her gangster.
The Wire: Season Four
.
To my eyes, it was the greatest accomplishment in the history of scripted dramatic television. The four kids coming of age way too fast. The mayoral campaign. The Kobe Bryant-ruthlessness of Marlo's crew. All dancing in perfect compliment with each other. It wasn't gonna get any better than that. How could it?
I poured out plenty of liquor for the end of
The Sopranos
and thought it met a brilliant demise. I eagerly jumped on board for
John From Cincinnati
, which turned out to be weird as hell and devoid of anything to like about it. And, while I watched every minute of the most recent season of
Entourage
, it still makes me for more homesick than anything else.
Despite the fact that I couldn't stop laughing at
Flight of the Conchords
, something hasn't been quite right with me and HBO. Which may explain my current predicament.
When the second season of
Weeds
kicked off, I caught a couple of episodes accidentally. Remembered that I never understood how the main character jumped from her husband's funeral to serving smoke. And, then, I saw the episode where
Uncle Andy
took lil Shane Botwin to the massage parlour. Ree-effin-diculous. I refused to miss an ep after that one.
I didn't immediately declare my love for Showtime. It has came out in dribs and drabs as I've fought off an addiction to
Weeds
. (I still really need to have Nancy's dots connected.) I haven't made up my mind about
Californication
but I'll give Agent Mulder's new show time to find itself.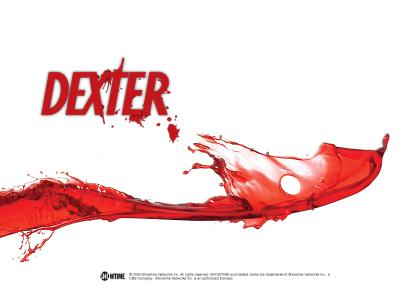 This past weekend, I fired up the On Demand and finally gave
Dexter
a shot. For some reason, the heroic anti-hero totally worked for me. I watched all 12 episodes in less than a day. I found it to be a generally predictable mystery, but completely gripping no less. As if you're supposed to be able to solve the riddle before the characters do so that you'll have a profound rooting interest as they inch toward the answer you already know. Nevermind that the lead is a serial killer. (A good guy. Sort of. He only kills other murderers, rapists and despots.) After Dexter finally discovered and dealt with the Ice Truck Killer, I recognized that I might have a problem.
I think I'm cheating on HBO with Showtime.
I'm already kinda planning my weeks so I don't miss
Weeds
and
Californication
. I notice that
Brotherhood
is also on On Demand and I feel like I need to scramble though the first season of that show before its season two opener accompanies the premiere of
Dexter
's second go round.
I watched a little bit of
Curb Your Enthusiasm
when I flipped past it last week. I have no interest in
Tell Me You Love Me
, though. If it weren't for the forthcoming series finale of
The Wire
, I might leave my main chick altogether.
So I'll give her one more chance to win me back.
While I wait, though, I'll probably be watching
Showtime
.